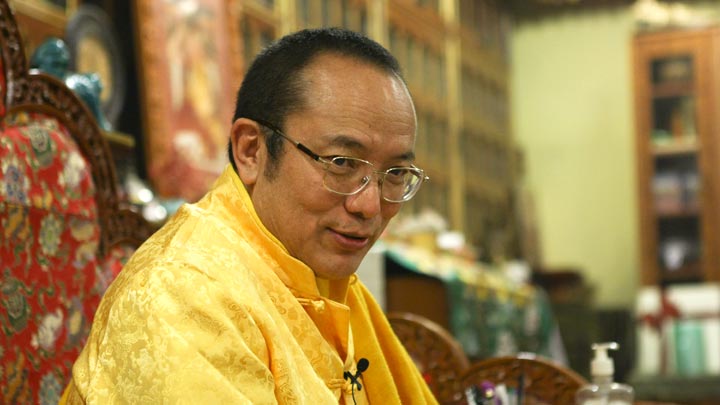 ---
English edition
---
Tibetan Wooden Sheep or Wood Sheep Year
and the Year 2015
So now this is beginning of Year 2015.
And it is very important for us to celebrate the New Year
with very clear and valid intention.
Of course, everybody gets together
and we all try to be happy
by doing whatever our tradition prescribes for us.
Everyone has different ways to celebrate New Year.
So all of that should be done.
But what I sincerely pray, as a Buddhist monk,
is that it also should become like
one year has passed in our life,
so whatever we have done in the past life,
good things, we should rejoice;
and not so good things, if there is such,
then we should make ourselves aware of such things
and we should purify the things
that are not so good that we could have done
and we should take kind of strong conviction
that we will not repeat such things,
because these things are not good for us
and not good for others.
Life is very precious.
Every moment of life is very precious
and we should not waste it for doing negative things.
We should use it for doing positive things.
Be happy, and be joyful, and be kind to each other.
And let this new year be productive new year,
happy new year and positive new year,
and meaningful new year.
So for this, I sincerely request
each and every one of you to do your best
to be happy as possible, positive as possible,
meaningful as possible and joyful as possible.
Happy New Year.
Happy New Year.
Happy New Year.
Buddha bless you.
---
Tibetan edition
---
Tibetan Year Wood Sheep Rabjung (cycle of 60 years) 17
Christian era 2015
Tashi Delek and a prosperous New Year!
When every New Year comes, according to the dharma,
we must realise impermanence.
From last year until now, a year is finished.
Then we should also realize
the invaluableness of our precious human body.
Between last year and now,
we have to reflect back on
what deeds we have done that benefit ourselves
in the current life and for the next life,
also deeds that benefit others
as well as serving the Buddha Dharma.
Within the year, we have to thoroughly check
what we have achieved in relation to what is wholesome
without wasting our precious time.
And also within the year, we must examine
what non-virtuous actions we have done individually
by bad habits and afflictions.
We must thoroughly analyse in a way of
how we wasted our precious life with bad conduct.
From now, we must think about improving our conduct
and not wasting our precious human life.
So, whatever good deeds we have accumulated
we must rejoice in and offer to the Three Jewels.
For the sake of all sentient beings,
to achieve enlightenment,
we must dedicate and pray for them,
binding it with the three excellences.
This coming New Year,
we must develop ourselves
in relation to benefitting others and ourselves.
Also think to serve the Buddha Dharma
and the welfare of all sentient beings.
For the younger generation,
you must think of studying hard,
and being an obedient student in this coming New Year.
For the older generation, you must practice hard.
The application of impermanence is equal for all
- there is no difference in age in regards to impermanence.
However, if you are already living longer
it is a great virtue from your previous life.
A year is completed and a New Year is approaching,
therefore, in this New Year,
we must think that we will practice more
and try to make our life more meaningful.
If we live longer in the future,
we must not waste our precious time
but make it more fruitful.
All those points I explained in relation to the dharma.
But in relation to a worldly context,
on the occasion of a New Year, everyone celebrates the day.
Similarly, every individual has their own birthday celebration,
but in Tibetan custom,
a New Year is like a birthday celebration
for all Tibetan people.
During a New Year occasion, having auspicious conversations,
inviting each other, making harmony, admiring,
whether it is family,
a guru and disciple, or monks and a monastery,
friends, or someone you know,
all celebrate together as one and enjoy it.
This kind of celebration
is more related to the worldly context.
In summary, I don't have much responsibility
to explain in relation to a worldly perspective,
but from the viewpoint of dharma,
everyone must take a positive view
of making the New Year more meaningful.
For all the lamas, tulkus, khenpos, sangha and everyone,
aspire for good, whatever dharma activities are served until now.
In this coming New Year, everyone must have a great aspiration
and put effort more than the previous year
to serve the Buddha Dharma
and benefit greatly all sentient beings.
From my side I will do my sincere prayers
to make a connection like a drop of water in the ocean.
Tashi Delek and Prosperity to you all!
Lord Gampopa's teaching of the four dharmas are:
may my mind turn towards the dharma;
may the dharma go along the path;
may the path clarify confusion;
and may confusion transform into wisdom.
I will pray all these happen to you in a meaningful way.
Wishing you all a very happy New Year and Tashi Delek!