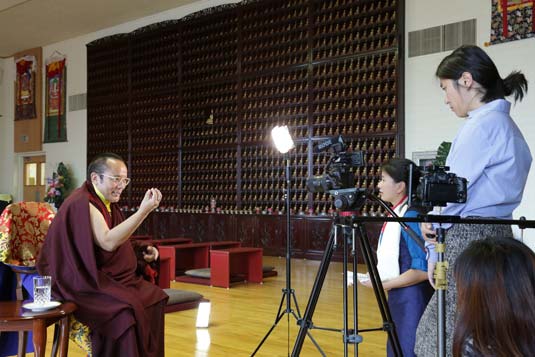 With lots of invitations from Kagyu dharma centers and Yale University landed at California airport on 11th Sept 2016. Till 22nd September there are no teaching programmes and public audiences. As in schedule that Rinpoche has did medical checkup and relax time for his tutor Gegenla who is very old. It's a great pleasure and praise by the doctors that Guru Vajradhara's health is good and fit.
On 19th September 2016 Tibetan and Chinese language section of VOA came for interview with Guru Vajradhara. Their main questions on the Science and technology in relation with Buddha Dharma and why Palpung Lungtok Choling Temple was established at Silicon Valley. Guru Vajradhara has kindly explained in detail about Buddhism in general and particularly Vajrayana Buddhism and the reason behind the establishment of Palpung Lungtok Choeling (Dharma Center) near Silicon Valley.
On 22nd September 2016 The Guru Vajradhara the 12th Chamgon Kenting Tai Situpa will arrive at New York City and will post update as program goes on.