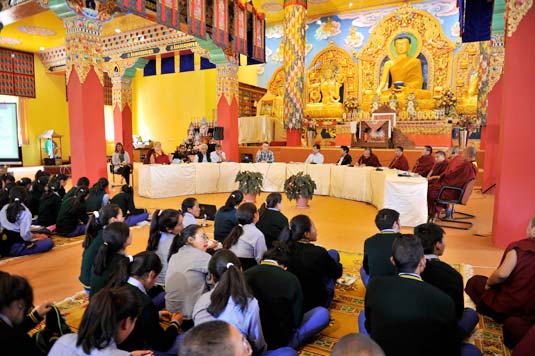 The fifth in the series of the Monastic Graduates Program (MGP) was held at Palpung Sherabling Monastic Seat, from October 10th to November 10th 2016. The program jointly organized by the Tibetan Library Dharamsala this year is run under the blessing of His Holiness Dalai Lama and Guru Vajradhara Chamgon Kenting Tai Situpa of Palpung Sherabling Monastic Seat.
Each MGP is a four-week intensive learning course of modern sciences, with a focus on Physics. Palpung Sherabling Monastic Seat, under Palpung Munisahsan Dharma Chakra Sangh, has organized the entire lodging for one month for those who participated. This one-month program consisting of Astronomy, Neuroscience and Biology integrated across different strands of hands-on investigation to provide a real experience of conducting scientific research and direct insights into how modern science establishes knowledge.
We invited some great teachers from the west who have expertise in their field. This year we had Paul Doherty and Modesto Temez from the Exploratorium in San Francisco to teach the monastics about the world of Physics and investigate how we acquire knowledge. For Neuroscience, we had Dr. Eric Chudler from the University of Washington, Seattle and Dr. Linda Shore from the Astronomical Society of the Pacific to teach the monastics about the cosmic world. We had two great teachers from Knowles Science Teaching Foundation, Rachel Sanders and Jim Lane, teaching the monastics "What is Life?" Outside of the classroom, the daily dialogues during tea and lunch breaks allowed the monastics to deepen their relationships, as well as create a connection between science and Buddhism.
Around 30 monastics are trained during the yearly program. This year we had 38 monks and nuns from 21 different monasteries and nunneries from India and Nepal taking part in the program.